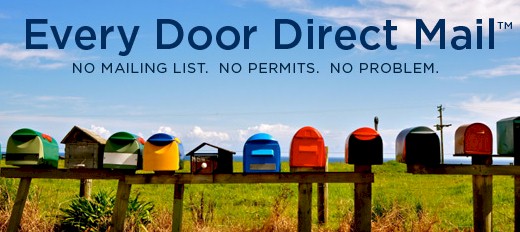 Every Door Direct Mail   Service

What is Every Door Direct    Mail?

Every Door Direct Mail is a program through the United States Postal Service that offers mailers the opportunity

to saturate entire mail carrier routes (hit every door on

the route). It may benefit some marketers, because it includes a postage discount and mailing lists. However, there are things about the program you should be

aware of.

Every Door Direct Mail is NOT a targeted mailing in the sense that we normally use the term on this site. The Every Door Direct Mail system can only target houses based on physical location, not by other factors such as age, income level, interests, etc. Basically, it allows you

to hit every house along a particular mail carrier's route - if that is something that is helpful to you. However, due

to the strict specifications that pieces must meet, you will almost certainly still need to go through a mail house or marketing company like New Way Marketing to make

sure your mail qualifies.

Businesses that may stand to benefit from Every Door Direct Mail include:

• Restaurants

• General retail stores (not recommended for specialty retailers as they would benefit from a more targeted list)

• Dentists

• Attorneys

• Doctors, Health Clinics and Hospitals

• Dry Cleaners

• Churches

• Tax Preparation

• Gyms/Fitness

• Moving/Storage

• Museums/Amusement Parks/Local Attractions (if not specifically targeting homes with children)

• Salons and Spas

(if not targeting women or specific incomes)

• Florists

• Insurance Agents (if not targeting homeowners or specific income ranges)

• Auto Repair (if not targeting specific vehicle types or income ranges)

• Car Washes

• Home Services Businesses (Carpet Cleaning, House Cleaning, Pest Control, Landscaping,

• Heating & AC and Electricians)

New Way Marketing

is now offering the Every Door Direct Mail   Service

THE PERFECT REAL ESTATE TOOL

FOR MARKETING YOUR

●  Just Listed or Just Sold Properties

●  Hud Properties

●  Your Farm Special Event Information

●  Introducing Yourself To The Neighborhood

●  Open House and more

Request a FREE Count for

USPS Every Door Direct Mail

NO OBLIGATION

How would you like to reach customers?:

Enter Complete Address for Radius Count

or Zip Code for Zip Code Count:

Who do you want to target?:

AN AFFORDABLE WAY TO REACH NEW CUSTOMERS USING EDDM

●  Great Custom Design

●  Two Easy Convenient Sizes

    6¼ x 9½ and  6¼ x  6¼

●  Plenty of room for your message

●  Target Neighborhoods Instead of Full Zip Codes

●  No Mailing List Needed

●  Next Day Delivery (in most cases)

●  A new way to reach potential customers

All prices listed are  "Price Per Piece"  •  Printed full color both sides on a 12 coated gloss (no UV)




newwaymarketing.net

720.870.5725

SHIPPING and DELIVERY CHARGES:  All orders can be picked up at our office Tues. - Fri.  9:00 am - 5:00 pm.

Please contact our office for estimated shipping/delivery charges. Shipping charges are based on standard UPS or USPS current rates.

UPS rates for residential are higher rates then business addresses. Not responsible for delivery delays due to weather conditions.

This site is protected by copyright and trademark laws under US and International law. All rights reserved. © 1982 - 2019 www.NewWayMarketing.net

New Way Marketing

p: 720-870-5725

tf: 888-870-5725

f: 720-870-5612

Order Department:

720.870.5725 Ext. 101