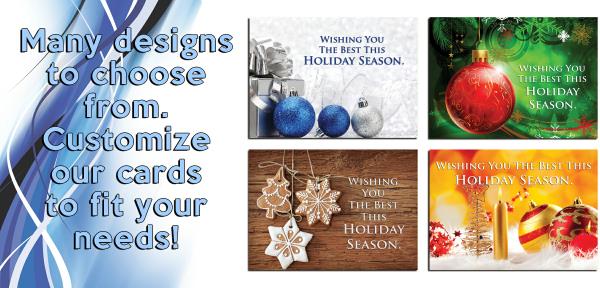 Want to remind friends and loved ones you're thinking of them during

the most wonderful time of the year?

High quality, professional Holiday, Thanksgiving,

Christmas, Hanukkah & Kwanzaa Cards for business (corporate)

or for personal use.

Holiday Cards that will express your appreciation,

and at the same time leave a lasting impression and

make you look so terrific that you will be remembered.

Holiday cards are on a standard 12pt - Bright White Cover

& Scored to make folding easy. Folded size is 5" x 7" (flat 7" x 10")

Cards are delivered flat - Folding available at an additional .03¢ per piece.


Envelope Imprint Cost.

(printing can be flat ink or raised thermography printing.)

Imprinted envelopes must be ordered in quantities shown only.

Small quantities (under 100) only offered with blank envelopes.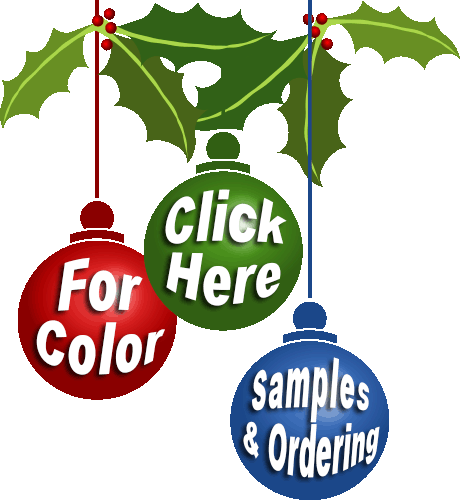 25 -

50 -

75 -

100 -

250 -

500 -

1000 -

$154.28

$181.50

$217.80

$254.10

$335.78

$372.07

$450.73

Quantity

  Cost
Prices are for printing ONLY.

Mailing is available at an additional cost, please contact office for pricing.

Prices include blank envelopes.  Envelope imprint available at an additional cost.




newwaymarketing.net

720.870.5725

SHIPPING and DELIVERY CHARGES:  All orders can be picked up at our office Mon. - Fri.  9:00 am - 5:00 pm.

Please contact our office for estimated shipping/delivery charges. Shipping charges are based on standard UPS or USPS current rates.

UPS rates for residential are higher rates then business addresses. Not responsible for delivery delays due to weather conditions.

This site is protected by copyright and trademark laws under US and International law. All rights reserved. © 1982 - 2018 www.NewWayMarketing.net

New Way Marketing

p: 720-870-5725

tf: 888-870-5725

f: 720-870-5612

Order Department:

720.870.5725 Ext. 101